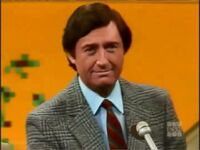 Jim Perry (born James Edward Dooley on November 9, 1933 - died November 20, 2015) is an American television host. He is best known as the host of the original format of Card Sharks and the 1980s format of Sale of the Century. In addition to hosting in America, he also hosted game shows in Canada, including Definition & Headline Hunters. Jim is also known as the host of the Miss Canada pageant in the 1970s and 1980s.
Jim is retired from television and lives with his wife, June, splitting their time between Florida and North Carolina. In recent years he authored two self-awareness books, and appeared in a few infomercials (mostly produced by his daughter Erin and fellow game show host Pat Finn). His last television appearance was on CNBC in the late 1990s to discuss one of his books. Jim and June had previously lived in Ashland, Oregon, after leaving Southern California in the 1990s.
When Card Sharks made its return in 1986, Jim was considered twice for both the network and syndicated runs. Due to $ale being on nighttime and daytime and Definition in Canada, he was unable to return; the roles instead went to Bob Eubanks and Bill Rafferty, respectively.
The Sesame Street character and resident game show emcee "Guy Smiley" was modeled after Jim Perry though not completely based on him.